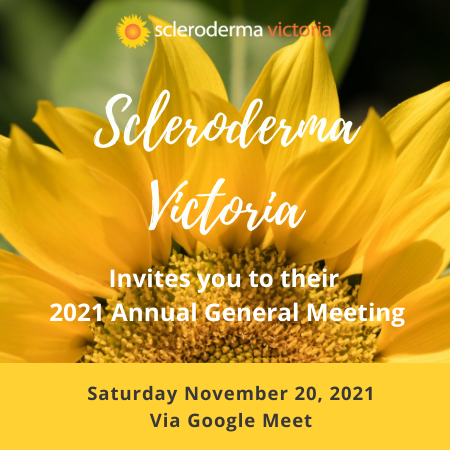 28 Sep

Scleroderma Victoria's 2021 Annual General Meeting

Scleroderma Victoria welcomes our members to join us via Google Meet for our Annual General meeting.

Financial members of Scleroderma Victoria, friends, family and carers are invited to attend.

Save the Date: Saturday November 20, 2021

Location: Online via Google Meet

Phone: 03 9231 3651
Email: enq@sclerodermavictoria.com.au

Consultant Rheumatologists at St Vincent's Hospital, Dr Wendy Stevens and Dr Laura Ross will present the latest research findings. This is a great opportunity to hear from our specialist Rheumatologists and meet your committee members and others with Scleroderma.

Please register below or contact us at enq@sclerodermavictoria.com.au for the meeting link and request a calendar invitation to be sent.