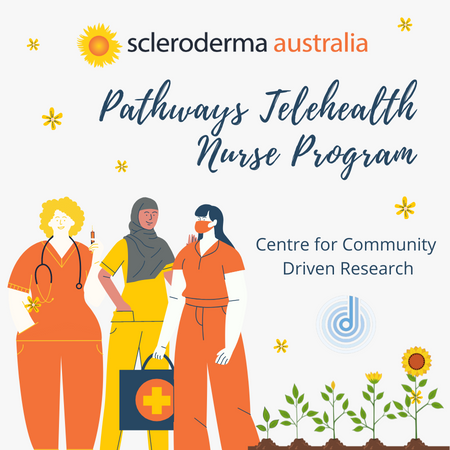 18 Nov

Scleroderma Australia – Pathways Telehealth Nurse 2023

The Pathways Telehealth Nurse service is an Australian innovation that places a trained registered nurse within a patient organisation, to provide specialist care and health system navigation to communities with rare, genetic, and complex conditions.

The program was developed by an Australian nurse, Kate Holliday who is a researcher, Chief Executive and founder of the Centre for Community-Driven Research says –

"My career journey started, as a new grad at Concord Hospital and I ended up later working in America for a year in drug and alcohol rehab. That was my first community-based role and it's where my interest was sparked in the value of providing care in the community and in a setting that is comfortable, familiar and accessible to patients. In community-based care and telehealth, you've got the chance to look at what's happening to the patient in front of you in their own environment to address all of the physical, mental and social aspects of care. Working in America also brought home the importance of universal health coverage. One of the things I really value about telehealth is the fact that you are a guest in someone's home – you are entering their space and it creates a particularly special environment to work in with patients." 

Kate has worked in a number of settings, but regardless of the context, her motivation has always been ensuring patients are not only at the centre of decision-making but rather, leading it. Nurses have a unique perspective and relationship with patients and she is also really passionate about nurses being present and being involved in policy decisions.

The concept of the Pathways Telehealth Nurse program comes from leveraging the relationship patient groups have with the community, and if they have patients coming to them, we need to make sure there is a registered nurse there with expertise in their condition, to help them navigate the health system.

This is a model of care that provides a patient with a holistic care plan and makes the best use of all that is available to them in the Australian health system. It's a service that anyone can access, regardless of where they live. But it's also a model that ensures nurses are supported in their role and have guidance in their scope of practice.

We are excited to announce that in 2023, a Pathways nurse will be available for the Scleroderma Australia community.

As part of the training process for the Pathways nurse assigned to Scleroderma Australia, we are asking patients to volunteer to be interviewed and complete an online questionnaire. This will help the Pathways nurse learn more about the unique needs of the community and also be used in the future as part of a report on the experience of people with rare conditions.

To register to volunteer for the interview and online questionnaire, see the 'Find out more' button below.

Please note that this Nurse is for Health System Pathways only.