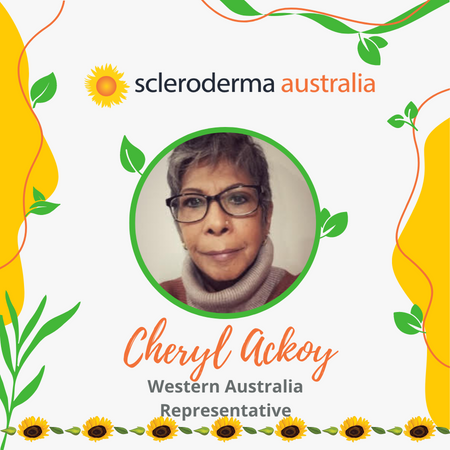 18 Nov

Scleroderma Australia Committee – Western Australia Representative

We are very excited to announce that Cheryl Ackoy from Western Australia has joined our Scleroderma Australia Committee as a WA representative. Cheryl was born in Calcutta India and immigrated to Perth, Western Australia in 1968. Her working career was mainly within the medical field since coming to Australia, and prior to retirement her role was as a Research Coordinator/Administrative Officer for the School of Psychiatry & Clinical Neurosciences (UWA) based at the Royal Perth Hospital for 20 years.  

Cheryl's versatility and open mindedness are demonstrated by her diverse life experiences, including enjoying her role as a Civil Celebrant for a number of years prior to retirement. One of her favourite post-retirement activities is being a Grandma to 4 beautiful grandchildren.

Cheryl was diagnosed with Scleroderma in 2011 and is looking forward to extending her commitment to giving back to her community by volunteering with us at Scleroderma Australia, in addition to providing meaningful services to The Little Sisters of the Poor.