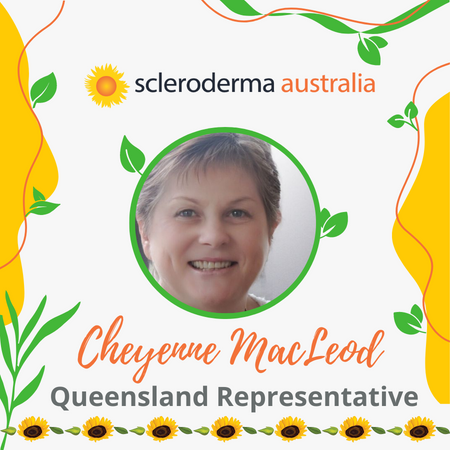 18 Nov

Scleroderma Australia Committee – Queensland Representative

Cheyenne MacLeod was diagnosed 22 years ago as having Sjogren's with Scleroderma overlap after 3 years of various tests. She had been an associate member of Scleroderma Queensland for approximately 14 years before becoming a Committee Member in 2016 to help meet the needs of the Association when a vacancy arose. Subsequently being elected to the position of President of Scleroderma Queensland in 2018.

Cheyenne's background is diverse and varied over a fifty year time span having previously worked as a business owner/operator, in administration and hospitality before retiring to become a full time carer for her husband.

The greatest attribute Cheynne brings to Scleroderma Australia is a compassion for people with Scleroderma, their family and friends to bring about more favorable conditions and improved outcomes. Her passion is to offer support, advocate for others as necessary, and to gain knowledge and raise community awareness of scleroderma. Her support to our Closed Facebook Page has been instrumental, and we appreciate her assistance in all she does. Of particular interest to Cheyenne is fundraising in order to support research into the condition with the object of finding a cure.