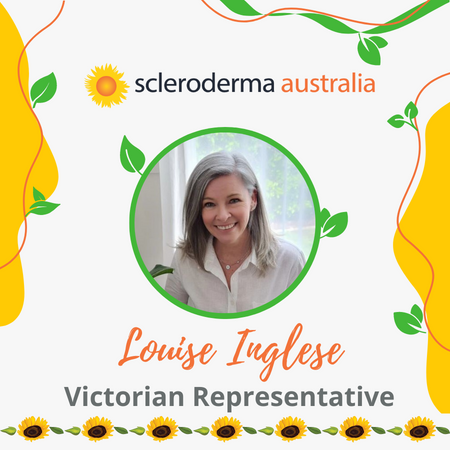 18 Nov

Scleroderma Australia Committee – Victorian Representative

Louise Inglese was diagnosed with scleroderma in February 2016 by her Gastroenterologist, which is unusual as this generally occurs through a Rheumatologist. This outcome was quite a surprise to Louise as she had never heard of scleroderma before. Having a condition that nobody has heard of is a lonely business and when even the medical profession cannot recognise it or tell you what is going to happen, it is lonelier still. Early diagnosis of scleroderma saves lives and leads to control of the condition.

Scleroderma affects each person differently; we have a saying that 'no two are the same'. Louise struggles with Raynaud's Phenomenon in both     hands and feet and the damage to her digestive system results in many gastrointestinal tract challenges.

Joining the Scleroderma Victoria Committee, as well as being the Victorian Representative on the Scleroderma Australia Committee, has enabled Louise to see in real time what a difference we make to people who are living with scleroderma. Louise's passion for making a difference has also led her to run the local Mornington Peninsula/Westernport Support Group, where they meet each month to support each other and keep up to date on all the research and developments for people with scleroderma.

Louise's family and friends have provided amazing support and have stepped up to help fundraise, which not only to helps with research dollars but also to help educate the community about scleroderma. Over the past five years, Louise has organised Scleroderma More Than Skin Deep Fashion Parade, and with her family have held 'Snuggle Up for Scleroderma' days, Cocktail Parties, Garage Sales, Shave Events and handed out many of the 'Change for Scleroderma' boxes to businesses and friends, to raise much need funds to support the scleroderma community and go towards much needed research.

In 2020, Louise was nominated as Vice President for Scleroderma Victoria, a role which she has taken on with the same energy and enthusiasm she has for all of her other great achievements.