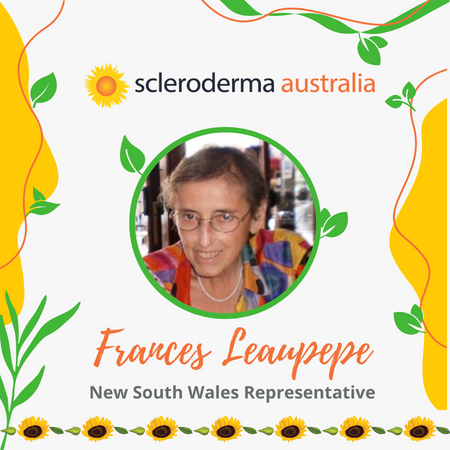 18 Nov

Scleroderma Australia Committee – New South Wales Representative

From an early age, Fran Leaupepe was exposed to health, disability and social issues that have impacted on and informed her life. This led her to undertake her graduate degree in 1971 as a professional Social Worker, from Sydney University.

At a young age, life experiences included a debilitating virus which led to many hospital admissions and in turn, impacted her mental health. This in itself inspired her to become a community group facilitator for mental health consumers, their families and carer organisations.

In 1992, as a new mother of two children under four, mysterious painful unrelated symptoms were diagnosed as Scleroderma by her GP, and lots of referrals and treatments began. Once again, life experiences dictated outcomes such as accepting part-time work. Scleroderma was a fairly unknown condition at the time, where workplace adjustments were not implemented and became a barrier forcing Fran to retire. In losing her job due to the impacts of Scleroderma, Fran became a strong advocate for herself and for others and her focus shifted to educating NGO's, Committees and Allied Health Professionals about Scleroderma and found for herself support and education in Scleroderma NSW.

In losing her husband to cancer 3 years ago, Fran engaged in new activities including joining the Scleroderma NSW Committee and more recently Scleroderma Australia. She has not allowed challenges to stand in her way but rather wanted to use her resourcefulness for support others.

Fran also provides her skills and expertise to assist in the Royal Australian College of Physicians (RACP NSW) annual medical exams. It is a great opportunity for the examining Professors and the Registrars/Physician candidates to increase their knowledge of Scleroderma. Fran has also made recommendations for treatment and highlighted the role of Support Groups in the Scleroderma community.